Times have changed and while you still need to have the right tools like a good water key and pipe cutter in your van, there's a great way to attract more business that's an easy DIY job from start to finish. Starting a Facebook page to promote your plumbing business is the modern way to let existing customers know about your services and specials while attracting new clients that can ultimately pay with our mobile invoicing app.
All you need to do to get started is unclog a few of the Internet related terms you might not be familiar with, but first let's consider why you should use this social media site as an online business card. Currently, there are more than a billion people around the world that use Facebook to meet and greet each other, find old and new friends and look for services like your plumbing company online. Worried about casting the net too wide? About having a Facebook page that people on the other side of the world see but not folks in your own backyard and target market?
Mobile invoicing app and Facebook page
Don't be. One of the bigger advantages to a Facebook page is you can add a description of your goods and services and location. It's a great way to grow your plumbing business for a variety of good reasons including the fact that existing clients and prospects can see your Facebook page using the same smartphones they can make credit card payments on through our mobile invoicing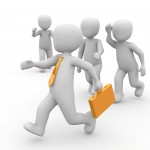 app here at Street Invoice. It's part of the perfect one/two punch that allows you to advertise and get paid on the go.
A customized URL for your new page will allow you to be seen on Facebook and through Google searches and you can post and even add pictures and videos. It's important to brand yourself properly here and place a logo or picture on the page that represents the message you want your firm to present. If you're stuck for ideas, simply copy the design and layout of one of your business cards or take a picture of your office or vehicle with the company name showing and simply upload it to your new online business page.
Feedback and comments
If you're interested in learning more about the people that buy your plumbing services and how to grow your business, this is also an excellent way to go. You can post and start responding to the posts from interested people who visit. Through feedback, comments and even interactions, you gather interesting information about the direction you should be taking your plumbing business in.
Interested in starting a Facebook page for your plumbing business? It's fast and easy to get going and when you combine this tool with our mobile invoicing product , you'll be able to increase your sales and get paid faster, anywhere, anytime.